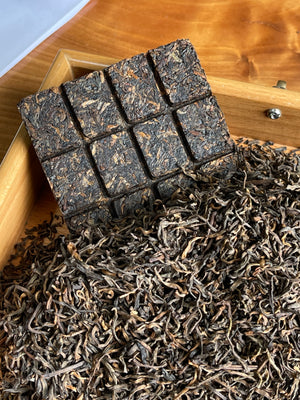 Ancient Tree Royal Shou Pu'er (2006) TEA MASTER SERIES
Sale price Price €33,95 Regular price Unit price / per
Tax included.
Shipping
calculated at checkout.
NOTE: This item is IN STOCK and will be shipped within 2 business days!
* * * * * * * * * * 

ABOUT THIS TEA:
2006 Ancient Tree Royal Pu'er Shou Pu'er Tea
50g Mini-Cake
Source: Qianjiazhai Wild Tea Trees (100+ Years)
Shou, or "cooked" pu'er, is created by taking pu'er leaves and allowing them to rapidly ferment in a process known as "wet piling."

Royal Pu'er is created by choosing just the buds of the leaves, for increased fragrance. Tea leaves from Qianjiazhai mountain are piled for 2-3 months to rapidly oxidize the tea, then dried and aged to increase the depth of flavor.
This particular royal Pu'er is from 2006, so it has increased in flavor while continuing to mellow and soften. Picked from 100+ year old tea trees, this is a fantastic tea-drinking experience, especially for those who love the earthy "cooked" pu'er flavor.
It has a dark, deep, complex flavor with an exceptionally smooth mouth feel, traces of sticky-rice and dried date. It is exceptionally smooth, earthy, and dark.
This tea has no trace at all of any "fishy" smell caused by lower-quality leaves and poor wet piling.
 WHAT IS THE TEA MASTER SERIES?
A Note from Jesse
Hello Tea Friends!
This summer I got to go way into the wilds of Yunnan, to the tea village of Qianjiazhai where Sister Ai's tea farm has tea trees over 1000 years old!
Sister Ai is the god-daughter of my friend Jia Laoshi, a tea expert and author who writes for "Chinese Tea Person" 中华茶人 magazine.
A third-generation tea farmer, Sister Ai picks tea from wild tea trees in the primordial forests of Yunnan that are closed to all traffic except for the locals.
The Tea Master Series boxes is a collaboration between Sister Ai and me - we tried many single-source teas from her mountain and selected these exceptional teas for their quality, taste, purity, and value.