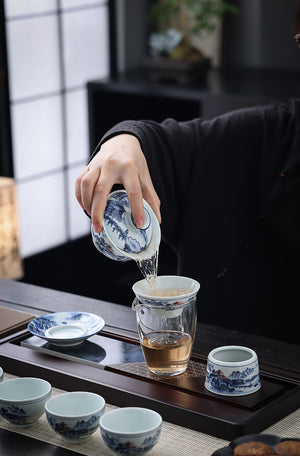 Blue-White Porcelain Gongfu Tea Set
Sale price Price €64,95 Regular price Unit price / per
Tax included.
Shipping
calculated at checkout.
NOTE: This item is IN STOCK and will ship within 2 business days!
What is Blue-White Porcelain?
Blue-White Porcelain, known in Chinese as "Qing Hua Ci 青花瓷" is perhaps the most classic of all tea-ware materials. The white of the porcelain serves as the "negative space" that brings out detail in traditional Chinese painting.
Fired at 1300 Celsius (2370 Fahrenheit), the high heat allows this porcelain to have clean, bright colors as well as making it impervious to water, making it easy to clean and maintain. This attribute also means the set will not absorb the flavor of the tea, making it good for making all types of teas without fear of mixing flavors.
Jesse says: Our Blue-White Porcelain comes from Dehua, China, where our local tea guy Alex finds us the best stuff and maintains top quality at a fantastic price.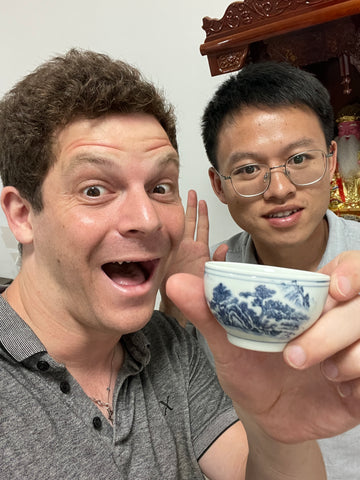 Me and Alex meeting in Dehua, China
About This Tea Set
This 10-piece tea set has everything needed for making Chinese-style Gongfu Tea:
1 Lidded Cup, including plate, for steeping the tea; 
1 Tea Filter, including filter-holder;
1 Glass "Gongdaobei" Pitcher;
4 tea cups.
All of the teaware, except for the glass, is painted in the traditional Chinese landscape painting style known as Mountain and Water Style, or "Shan Shui Hua 山水画".
This style shows the mountains, bridges, boats and trees of classic Chinese scenery in blue, set against the white of the porcelain. The scene is highlighted by detailing in red.
This is a fantastic starter set for anyone interested in Gongfu Tea-making.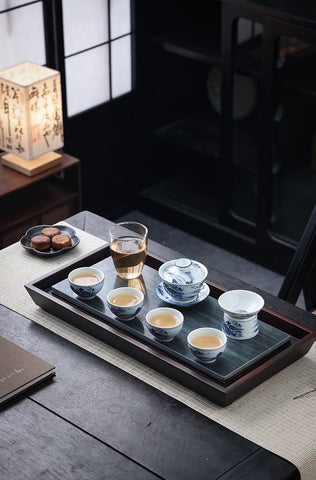 Special Tea Table and Tea Sampler Special Combo Deals!
This set can come with one (or both!) of two optional discount combos only available when purchasing a tea table!
Tea Tray and Tea Set Combo: We've launched a collection of quality tea tables and trays to bring your tea experience to the next level! Save $10 on this set by bundling with this any individual tea table!
To get the discount, go to any individual tea table product page and select "Tea Tray + Tea Set" combo by clicking the arrow under "style" when selecting the product.
"Year of The Rabbit" Tea Sampler Combo: This three-tea sampler is a special we launched for the Year of the Rabbit! It has a sweet and fragrant Mandarin-peel Shoumei White Tea, a dark and malty Da Hong Pao Oolong, and a smoky and chocolatey Lapsang Souchong. With 20-30 sessions' worth of tea, it's a great choice to add to your tea table purchase. Save $15 by bundling with this tea set!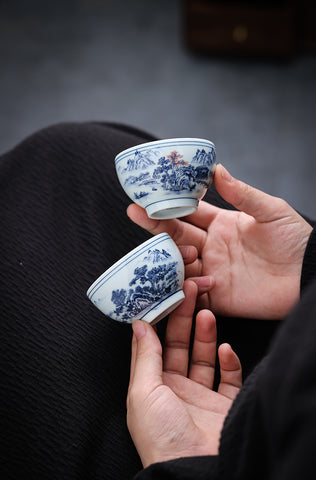 Jesse's Quality Guarantee!
When I started this shop, I wanted to find a way to take care of tea friends in a way normal online shops wouldn't.
That's why all the tea tables and equipment on the site are shipped in custom foam to keep them safe all the way to you - but even if that should fail,
 

I will replace any defective items and items damaged during shipping for free.
Simply contact teafriendsupport@jessesteahouse.com if you have issues.
I also
highly recommend buying shipping insurance
with your order - for a few dollars, we can save lots of time and energy chasing down shipping company paperwork in the case of a shipping issue.
I take care of my tea friends! I hope you will keep coming back!