Rectangular "Xi" Happiness Metal-Insert Engraved Bamboo Tea Tray
Sale price Price $68.00 Regular price Unit price / per
NOTE: This set is currently IN STOCK and will ship within 2 business days!

What is a tea tray?
The centerpiece of the traditional Chinese Gongfu tea-making experience, a tea tray not only holds all your tea equipment, but also catches spill water and serves as a home for your tea pets.

Beyond its direct use making tea, tea trays also create a welcoming atmosphere for guests, inviting one and all to sit around the tray, enjoy tea and each others' company, stimulating conversation and enhancing the tea experience.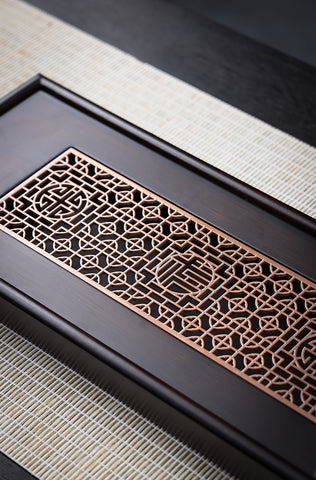 About This Tea Table
This tea tray is rectangular, with the main focal point being a large metal inlay with the character "Xi 禧" - Happiness - in the middle of the intricate design.
The tray is made of three pieces - a top piece for placing tea items, the metal insert, and the bottom tray, which collects spill water. The tray top and insert can be removed to dump spill water for easy cleaning.
An additional detail of this piece is the hand-carved lotus-flower engraving in each of the bottom two corners. Along with the intricate metal carving, it is a good fit for parties of up to four.
The table is made of heavy bamboo, which is resilient and solid while remaining light.
Jesse Says: My goal for the site is always to find tea things that are at least a step above the random stuff people can find online but without charging crazy prices. I think this piece is a success on both of those fronts - a great tea tray with fantastic design without breaking the bank.
This is a great set for new tea drinkers, especially when paired with my blue-white porcelain tea set. You can get a discount by ordering them together on this page!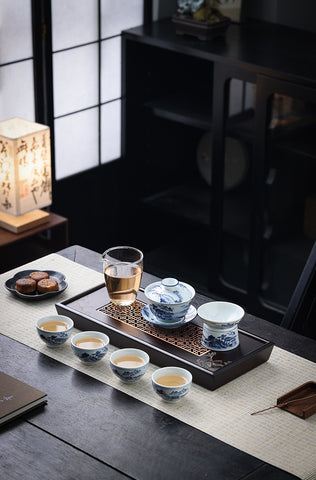 Tea Set and Tea Sampler Special Combos!
This set can come with one (or both!) of two optional discount combos only available when purchasing a tea table!
Tea Tray and Tea Set Combo:
This fantastic set of blue-white porcelain
has everything you need for a fantastic Gongfu tea experience. It includes a lidded cup and plate, a tea filter and filter-holder, and four teacups, all with a traditional Chinese landscape painting motif decorated with red highlights. It also includes a glass serving pitcher. 
Save $15 by bundling with this tea table - A GREAT DEAL!
"Year of The Rabbit" Tea Sampler Combo: This three-tea sampler is a special we launched for the Year of the Rabbit! It has a sweet and fragrant Mandarin-peel Shoumei White Tea, a dark and malty Da Hong Pao Oolong, and a smoky and chocolatey Lapsang Souchong. With 20-30 sessions' worth of tea, it's a great choice to add to your tea table purchase. Save $15 by bundling with this tea table!
Jesse's Quality Guarantee!
When I started this shop, I wanted to find a way to take care of tea friends in a way normal online shops wouldn't.
That's why all the tea tables and equipment on the site are shipped in custom foam to keep them safe all the way to you - but even if that should fail, I will replace any defective items and items damaged during shipping for free. Simply contact teafriendsupport@jessesteahouse.com if you have issues.
I also highly recommend buying shipping insurance with your order - for a few dollars, we can save lots of time and energy chasing down shipping company paperwork in the case of a shipping issue.
I take care of my tea friends! I hope you will keep coming back!
Product Dimensions:
15 x 6.3 x 1.5 inches