Bluestone "Qing Shi" Polished Stone Tea Table
Sale price Price $168.00 Regular price Unit price / per
NOTE: These trays are now BACK IN STOCK! 
What is a tea tray?
The centerpiece of the traditional Chinese Gongfu tea-making experience, a tea tray not only holds all your tea equipment, but also catches spill water and serves as a home for your tea pets.
Beyond its direct use making tea, tea trays also create a welcoming atmosphere for guests, inviting one and all to sit around the tray, enjoy tea and each others' company, stimulating conversation and enhancing the tea experience.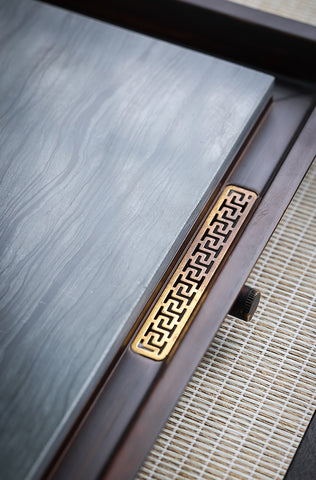 About This Tea Table
The centerpiece of this set is the full stone slab of "Qing Shi 青石" stone - known as "Bluestone" in China. This stone slab is one unbroken piece and is beautiful both dry and wet, serving as a fantastic stage for all your tea things.
The generous size is perfect for groups of up to eight. The high-walled channel surrounding the table is made of heavy bamboo, making it dense without adding too much weight.
I have gone through much trouble to create a custom foam casing for the tea table, helping to ensure it is not damaged in transit. This is a great choice for people who love their teatime and love hosting!
Jesse Says: I saw these larger stone tea tables in China when entering nicer tea shops, but this sort of thing never makes it out of Asia because of its size and weight. But ever since I got our ocean shipping channels opened, I wanted to try getting something like this onto the shop!
Something of this size and quality simply isn't available anywhere else online for anything close to this price. I am super proud to be able to share it with everyone and hope it will be an inspiration to those who have been wanting bigger, better stone tables!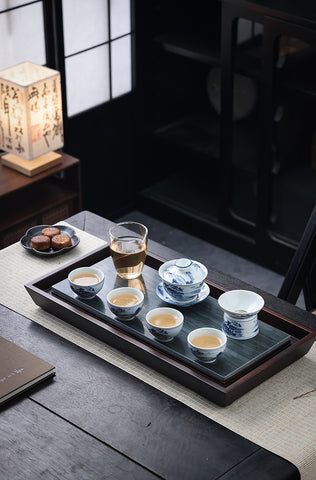 Tea Set and Tea Sampler Special Combos!
This set can come with one (or both!) of two optional discount combos only available when purchasing a tea table!
Tea Tray and Tea Set Combo:
This fantastic set of blue-white porcelain
has everything you need for a fantastic Gongfu tea experience. It includes a lidded cup and plate, a tea filter and filter-holder, and four teacups, all with a traditional Chinese landscape painting motif decorated with red highlights. It also includes a glass serving pitcher. 
Save $20 by bundling with this tea table - GREAT DEAL!
"Year of The Rabbit" Tea Sampler Combo: This three-tea sampler is a special we launched for the Year of the Rabbit! It has a sweet and fragrant Mandarin-peel Shoumei White Tea, a dark and malty Da Hong Pao Oolong, and a smoky and chocolatey Lapsang Souchong. With 20-30 sessions' worth of tea, it's a great choice to add to your tea table purchase. Save $15 by bundling with this tea table!
Jesse's Quality Guarantee!
When I started this shop, I wanted to find a way to take care of tea friends in a way normal online shops wouldn't.
That's why all the tea tables and equipment on the site are shipped in custom foam to keep them safe all the way to you - but even if that should fail, I will replace any defective items and items damaged during shipping for free. Simply contact teafriendsupport@jessesteahouse.com if you have issues.
I also highly recommend buying shipping insurance with your order - for a few dollars, we can save lots of time and energy chasing down shipping company paperwork in the case of a shipping issue.
I take care of my tea friends! I hope you will keep coming back!
Product Dimensions:
19.7 x 9.8 x 2 inches