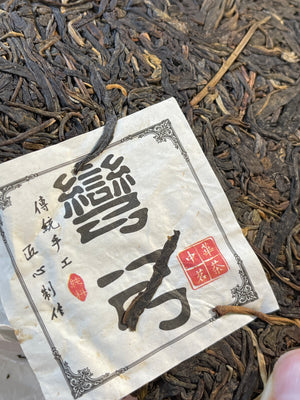 "Bent Bow" Wan Gong Raw Pu'er Cake (2020)
Sale price Price $48.00 Regular price Unit price / per
Jesse's Teahouse: Wangong Raw Pu'er Cake

*NOTE: This item is IN STOCK and will ship within 2 business days!*

ABOUT THIS TEA:
Each box contains:
"Bent Bow" Wan Gong Raw Pu'er Cake (2020)
(357 grams per cake, about 35-50 sessions, ~12.5 oz. total
This "Bent Bow" Raw Pu'er Tea Cake is a fantastic starter tea cake for tea friends looking to get a full-sized quality cake without breaking the bank.
Strong and sweet, this Sheng is a bit fruity, with notes of apple and apricot. It was the chosen favorite during a live "Jesse's Teahouse" meetup in Los Angeles, where tea friends chose from amongst many new tea cakes, beating some Sheng teas that were twice the price. 
The tea comes from an area known as "Bent Bow Village", which gives it its unique and interesting name.
Three years aged, this pu'er still has some room to continue to age and will continue to mellow and become complex. With time, it will get even better!
Beautiful golden tea color of the 2020 Bent Bow Sheng
What is a "Raw Pu'er Cake"?
Raw Pu'er is a type of tea popular throughout China for its golden color and complex flavor combining sweetness, aroma, and tannin astringency.
Pu'er cakes are simply loose-leaf tea pressed into discs for ease of transport. This tradition of making tea cakes goes back to the ancient Tea Horse Road trading route, when the tea was transported up into Tibet on dirt roads and packing efficiency was crucial. 
Jesse's Review:
This cake, along with the "Bingdao Mellow" Shou Pu'er, came from a mission of mine to find great quality, full-sized tea cakes that would come out to about $1 a session. I figured that at that price, anyone can make this their everyday tea.
The Bent Bow Sheng has a great fruity vibe to it, and responds very well to short steep times. I find it gives me fantastic energy and is a great Sheng to have around, especially at this price!
Save While Storing Your Pu'er Cake with a Tea Cake Caddy!
This item has an option to purchase the tea cake along with a
 

tea cake caddy
, a beautiful way to store your tea cake and ensure it continues to age nicely.
Save $8 (and shipping!) by purchasing them together.
VALUE AND QUALITY
These teas are high quality and can be re-steeped multiple times! Each serving makes between 4-8 big mugs of tea, so at around $.50 a cup, you get top quality Chinese teas at a price that you can enjoy every day.
Jesse's Teahouse started because when Jesse lived in Beijing, he realized the quality and value of the tea directly from the Beijing Tea Market was so much higher than what could be easily found in the States -- and around the world.
Jesse contacted his tea friends in Beijing, they shipped their best teas to him, and he sends them to you. That's it!
NOT JUST TEA, TEA CULTURE
Jesse believes the key to making good tea is to help his Chinese tea friends share not just their best teas, but also their advice on how best make the teas.
 That's why each box comes also comes with an info card that tells you:
Tea Origin
Steep Temperature
Steep Time
Directions for both teapot steeping and gaiwan steeping
There are also links to tea-making videos on QR codes on the back of the info card included in the tea box.
Don't Forget Your Tea Pets!
In Chinese Gongfu Tea Tradition, Tea Pets accompany you at teatime and you "raise" them by feeding them tea! Check out Jesse's Tea Pets here.