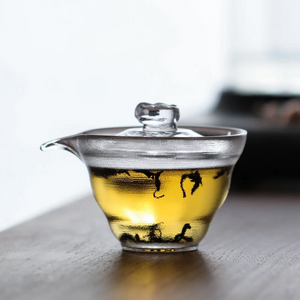 Frosted Glass Gaiwan-Style Teapot
Sale price Price $28.00 Regular price Unit price / per
Frosted Glass Gaiwan-Style Teapot
NOTE: This item is a

 

proudly IN STOCK and will ship within 2 business days!
Both traditional and modern, this frosted glass tea-maker is the best of both worlds!
The pot features:
Frosted glass exterior, perfect for viewing tea color;
High rim for easy holding
Lidded cup-style straining lid
It's a great fit for:
New and experienced tea friends alike!
No-fuss quick tea-making while still enjoying the brewing experience
Tea Party Size?
This pot is best for personal use or smaller groups (1-3 people).
Save on tea with this teapot! Purchase the pot and sampler combo from the drop-down menu above to save $5 on a tea sampler!
Jesse's Review:
This cup is good for everyone, beginners and experienced tea-makers alike. I personally love glass teaware and this one is good for making tea quickly and without fuss but still enjoying the beauty of the process.
Also, because it is glass, I find it compliments other teaware and tea tables easily. It fit in easily as a replacement for the lidded cup in my Gongfu Tea Table Set, but you wouldn't need any other equipment to use it well.
Keep in mind - you don't want to leave the tea steeping in the pot too long. Either pour from here into a pitcher, or directly into your drinking cup.
Don't Forget Your Tea Pets!
It's not gongfu tea time without a tea pet! Check out the tea pets and add one to your order!