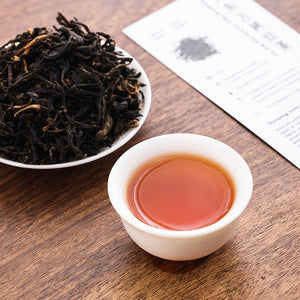 Bangdong Ancient Tree Aged Red Tea (2015)
Sale price Price €22,95 Regular price Unit price / per
Tax included.
Shipping
calculated at checkout.
Bangdong Aged Ancient Tree Red Tea (2015)
*NOTE: This item

 

is IN STOCK and will ship within 2 business days!*
What is Red Tea?
What we call "Black Tea" in the West, Chinese call "Red Tea" (Hong Cha 红茶.) 
To respect Chinese tea tradition, I use the Chinese description of "Red Tea", but no matter the name, if you have had black tea before, the taste will be familiar to you!
THE TEA
This 8-year aged tea is from Bangdong, in Lincang, Yunnan, where the some of the best tea in the world is picked from wild tea trees hundreds of years old.
This Bangdong red tea is made from ancient tree leaves that are usually used for Pu'er tea, but processed as a red tea instead, by withering, oxidizing, and roasting the leaves after picking.
The result is the familiar flavor of "black tea" as it is known in the West, but eight years of added flavor from aging and a rich, deep aftertaste which is the hallmark of ancient tree tea.
For those who want a punchy, flavorful but still balanced red tea, this is a great option. It also has the strength to come through iced or as milk tea.
Jesse Says:
Simply put, this one is fantastic! I love ancient tree red tea and the only reason we haven't stocked any is that it's hard to find the right value and price combination.
When I tasted the samples I got from Bangdong, I loved it, and guessed it was probably twice or three times the price that I was looking for. But lucky for us, the price was very reasonable for ancient tree red tea, and I've had enough of it to know that I was tasting the real thing!
Anyone who has tried a red tea from my collection should pick up one of these. I am sure you will enjoy!
VALUE AND QUALITY

Want the best value? This tea comes in 100g and 200g sizes - check the drop-down menu above!
Jesse's Teahouse started because Jesse realized the quality and value of the tea directly from the Beijing Tea Market was so much higher than what could be easily found in the States -- and around the world.
Jesse contacted his tea friends, they shipped their best teas to him, and he sends them to you. That's it!
These teas are high quality and can be re-steeped multiple times! 
Each serving makes between 4-8 cups of tea,
so at around $.50 a cup
, you get top quality Chinese teas at a price that you can enjoy every day.
NOT JUST TEA, TEA CULTURE
Jesse believes the key to making good tea is to help his Chinese tea friends share not just their best teas, but the best ways to make the teas.
That's why each box comes also comes with an info card that tells you:
Tea Origin
Steep Temperature
Steep Time
Directions for both teapot steeping and gaiwan steeping
All Jesse's Teahouse Tea Friends (that's you now!) also get access to private YouTube videos where Jesse and his Chinese tea friends show you how to make the teas and explain the tea-making process. 
The links are on QR codes on the back of the info card included in the tea box.
Don't Forget Your Tea Pets!
In Chinese Gongfu Tea Tradition, Tea Pets accompany you at teatime and you "raise" them by feeding them tea! Check out the tea pets at the bottom of this page.